France - Western Europe
Information Systems Management
22



Université Paris 1 Panthéon-Sorbonne - Ecole de Management de la Sorbonne UFR 06
Master Systèmes d'Information et de Connaissance (SIC) & Management of Information and Knowledge Systems (MIKS)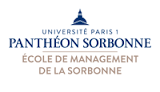 SELMIN NURCAN
Program Director of Master professionnel SIC et MIKS of Université Paris 1 Panthéon-Sorbonne - Ecole de Management de la Sorbonne UFR 06
Created in 1979 and open to apprenticeship since 1997, the Master's degree in Information and Communication Systems (ICS) has the ambition to accompany and anticipate the evolution of information systems (IS) and of methods for managing IS projects. The objective is to develop skills for (i) planning, designing, governing and transforming information and knowledge systems (IKS); and (ii) deciding and acting in complexity.
The five SIC majors (Business Analysis, Big Data, Cybersecurity) and MIKS (Capability Engineering and Management, Complex Systems and Strategy) apprenticeship programmes (CFA Afia) are aimed for young people who want to enrol in careers in IS management/governance.
The MIKS Complex Systems and Strategy course is organised in collaboration with the University of Bergen. Each group is composed with students from different backgrounds (IT, management). The trainees work together, for 12 or 24 months, with the instruction of mixed profiles in all projects.
This pedagogy allows these future professionals to prepare for their future jobs in which they will not be able to excel without a successful alliance between the business and IT teams. This is an essential condition for organisations of all kinds to succeed in their business/IS alignment and IS governance for responsible and sustainable performance and competitiveness. The SIC and MIKS Masters courses provide the skills required for this alliance, the success of which is a major asset for digital transformation.
The training is scheduled over 13 (M2) or 24 months (M1+M2) from September to October alternating university/company sessions. It includes an international study trip in a research training framework (scientific conference and summer school).
100% professional integration; average annual salary on completion 42 000 €.
For managers who wish to train after at least 3 years of professional experience, the Master 2 is organised on a part-time basis (Executive MSIC), in the format of monthly 4-day seminars.
MIKS is a Master Programme in ICT and Management. It offers the unique opportunity for European and International students to get a master degree from the prestigious Sorbonne University.
Our vision
Our strength
Our teaching method secrets
Our innovations
Employment
Our difference
Convince us