France - Western Europe
Information Systems Management
22



Université Paris 1 Panthéon-Sorbonne - Ecole de Management de la Sorbonne UFR 06
Master Systèmes d'Information et de Connaissance (SIC) & Management of Information and Knowledge Systems (MIKS)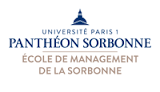 SELMIN NURCAN
Program Director of Master professionnel SIC et MIKS of Université Paris 1 Panthéon-Sorbonne - Ecole de Management de la Sorbonne UFR 06
Founded 37 years ago, under the name of DESS Information Systems (SI), the Master SIC has the ambition to move forward with and anticipate the evolution of the IS and the methods of conducting IS projects. The objective of the training is to provide knowledge and facilitate the development of skills needed to plan, design, implement and operate information and knowledge systems (CIS) that organizations need in an evolving world.
IKSEM features
The National French 'Apprentissage' Style of teaching/learning: Under IKSEM students spend alternate periods in the company and academia (cycle of 4 weeks in industry followed by 2 weeks in academia). They work under mentorship of two designated mentors, one academic and one industry professional.
Earn while you Learn: Each admitted student to IKSEM is provided paid contractual employment worth between 1000 and 2000 Euros per month, for one year with a French company. The Centre de Formation par l'Apprentissage, CFA-AFIA, co-ordinates the relationship between the University, the companies and IKSEM students. As part of this, it assists students in finding employment and paying for their tuition fees.
A multi-cultural environment for learning together: In the 2011 batch, 73% of the students have a curriculum from the University, 27% of them were engineers before acceeding to the programme. 36% are not french (8 different nationalities including french). 41% have a previous experience in the industry as apprenticeship before joining us.
An international seminar: In 2011 and 2012, students visited the Universidad Politecnica de Valencia (Spain). The seminar included a 4-day academic programme and a day for industrail and cultural discovery. In 2013, students participated to the IEEE International RCIS (Research Challenges in Information Science) Conference at Sorbonne. 2015 batch students participated to the same conference in Athens at the Harokopio University.
The course is also available to professionals with at least 3 years work experience on a part time basis (Executive MSIC) in the form of monthly seminars 4 days per calender year. 


Our vision
Our strength
Our teaching method secrets
Our innovations
Employment
Our difference
Convince us
International outlooks