France - Western Europe
Information Systems Management
22



Université Paris 1 Panthéon-Sorbonne - Ecole de Management de la Sorbonne UFR 06
Master Systèmes d'Information et de Connaissance (SIC) & Management of Information and Knowledge Systems (MIKS)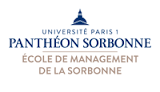 Program overview
MIKS is a Master Program in ICT and Management, offering a unique opportunity for European and International students to get a master degree from the prestigious Sorbonne University.
Objectives
To provide to students knowledge and know how on Information and Knowledge Systems (IKS) engineering and management.
To expose them to its immediate experience in French industry by performing tasks that are closely related to the academic instruction
To develop multidisciplinary skills to allow students to become adept at recognizing and orchestrating the interplay between IKS, organization strategy and business processes
Curriculum (courses, subject modules)
The curriculum is of 13 months duration. It begins in October and ends in the following September. It comprises of 8 sessions of 2 weeks each at the University and 9 sessions of 4 weeks each in industry. The curriculum is divided in two equal semesters.
- Organization strategy and Business processes - P. Negros

- Requirements engineering - C. Ebert

- Enterprise Architecture and IS urbanization - I. Rychkova

- Service oriented systems and interoperability - I. Rychkova, J. Primus

- Enterprise Knowledge Modelling - S. Nurcan

- Enterprise Knowledge Management -  M. Lewkowicz

- Decisional systems - M. Liottier

- IKS Governance - J. Romedenne

- IKS Quality assurance - Y. Chaumette

- Systems and Method Engineering environments - S. Assar, S. Si Saïd

- Developing communication skills  - I. King

- Master thesis

- System dynamics - S. Copin, V. Vettier (MIAGE)

- Data mining and knowledge extraction - M. Liottier (MIAGE)

- ERP systems and configuration - R. Mazo Pena, W. Hourani (MIAGE)
Admission conditions
Required diploma(s) :
Bachelor
Candidates must have passed the first year of a Masters programme in the area of Information Science, Computer Science, Software Engineering, Management Science or allied area. They must have completed 240 credits in the European System, with a background in ICT and in management.
Employment opportunities & career impact
Annual salary after graduation
Average Salary : 39 € (EUR)
Minimum Salary : 30 € (EUR)
Maximum Salary : 48 € (EUR)
Employment opportunities :
- The employment record of IKSEM students is excellent : 90% of students at the end of IKSEM and 100% less than 3 months after.
- The average salary of IKSEM 2014 batch is 39 400 euros per year.
- IKSEM students are employed as IKS engineers as support of business teams, i.e. Enterprise Architects (40%), Consultants (30%), IKS Developers (10%), Auditors (10%), others (10%).
- Executive positions in IKS departments of companies and administrations are the target positions after graduating from IKSEM. By providing a double competency in IKS engineering and corporate knowledge management, the programme is a true career accelerator.
- In the SMBG ranking of the best Masters, MS and MBA of France in 2011, IKSEM received the delivered Program Launch Award.